Dan Harper's: "Going Pro 2" DVD set
Now available as of January 9th, 2012!

DVD Cover: (click for a larger version)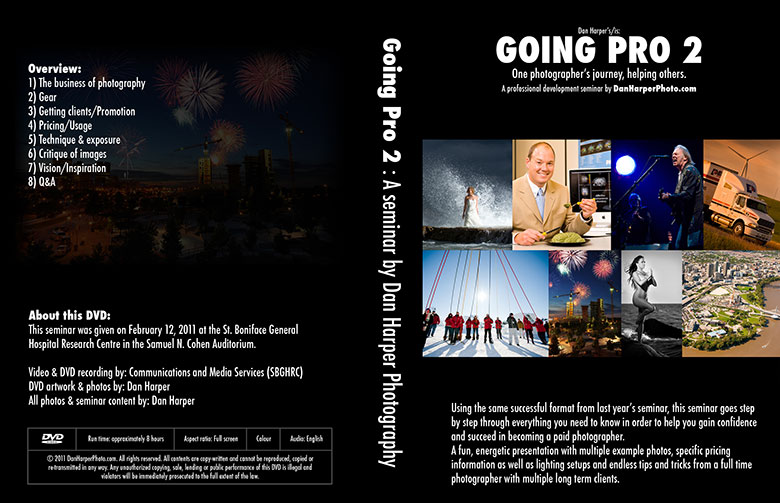 A huge upgrade from the GP1!
In my first GP1 seminar I talked people through all aspects of professional photography from gear to pricing and all the way to getting clients and promoting yourself as a photographer. This second seminar given a year later in 2011, I have both refined that information and knowledge and added to it new techniques, gear, and much more information on pricing going deep into portrait and wedding photogrpahy all the way to stock photo usage pricing!

If you're thinking of going pro, this DVD will help you gain the confidence not only in shooting, but pricing and dealing with clients as I talk about many of my experiences so you can learn from them all!

Here are some of the comments from some of the attendees:
-"I got a lot more out of this than I could even have expected!"
-"I never thought a magician would give away so many of his secrets!"
-"You covered in a day what took a year to learn in school."
-"Definitely worth it even at twice the price"
-"You did a great job of managing everyone's questions"
-"The information about pricing was ridiculously awesome! To have alocally based guideline as to where to start is worth the money of the workshop in itself!"

However the specific parts of the seminar which most people felt where most interesting/helpful where:
-Pricing & usage
-Promotion
-Marketing

DVD pricing:
-$350
-WPC members: $300
-However, I'm also going to give anyone who buys one by February 1, 2012 an additional $50 off

Please contact me by e-mail or call (204) 237-7402 to purchase your copy!