Dan Harper's Lego Technic Tundra Buggy
MOC #1 (My Own Creation)
*Updated Feb 12, 2016 - 3pm, May 7 2016




Like most kids I was big into Lego. I had several sets, some which stayed together, many others that were broken down for parts.
Like most adults I lost interest in Lego because, life. After moving two times during a 10 year period I sadly gave away my Lego in the process.
In 2015 the Lego store moved into Winnipeg so I went to check it out with my 2yo. He loved it, I liked it more! The main reason for my renewed interest was in the Lego Technic sets. These are advanced building sets, mostly vehicles, which include working engines including moving pistons in cylinders, working differentials and drivetrains etc. .

After making several store bought sets, I found out about a massive world wide community who like to create "MOCs" or "My own creations". Having worked in the tourism industry (as a photographer) for years, I wanted to make something never made before, but also very Manitoban. That's where the idea to make a Tundra Buggy came from.

I based this model on several photos I had taken while working for FNA. I had the photos open while building in order to make sure the size and scale was stayed true to the real thing. The drive train of my model is based on the Lego Technic 4x4 Crawler (set #9398). It wasa perfect starting point to create a Tundra Buggy due primarily to it's unique tires. After choosing this model to start my buggy from, I based the finalscale I wanted the model to be on it's tires and extrapolated from there. I had to order over 90 panels from Europe as the most that come in an individual set was 6. I was lucky enough to be able to buy over 100 windows for this model locally using the Lego Pick a Brick wall and the rest of the parts were recovered from other sets I had on hand.

Here is a video of the Tundra Buggy moving around



An iconic shot of the Tundra Buggy with the Canadian Museum for Human Rights in the background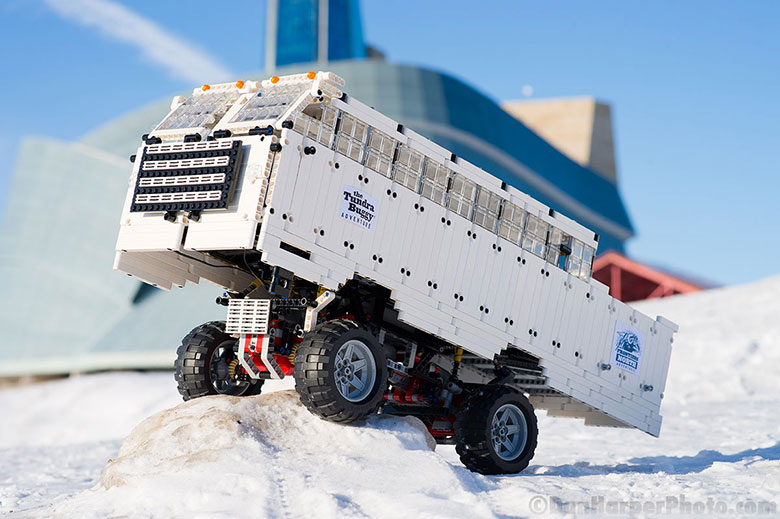 Future upgrades:
-Create stickers (rather than just paper with tape) for the logos (Tricia from FNA suggested using clear stickers which is a great idea!)
-Fully change the coloured pieces of the drivetrain to grey and black (like the real thing)
-Replace the IR remote with the a Bluetooth remote control, The SBrick






Details about the Lego Tundra Buggy model:
-1915 pieces approx.
-Fully functioning infrared remote control
-Independent 4 wheel drive
-Double suspension
-Working headlights
-Cost of building this model: original 9398 model: $750 (the cost is so high as each individual panel (of which there are about 90) cost $3 online. If this model was brought out as a set by Lego it would cost closer to $350-$400.
-Time to build: the time to create this mode including the ordering time for parts, creating sketches, collaboration with other Lego builders etc.. was done over 2 months, actual model build time approximately 15 hours. (I originally thought this was less but found my build notes and it's about 15 in total)

Details about the real Tundra Buggy:
(with info from FNA and also taken from FNA web site & Wikipedia)
-The term "Tundra Buggy" is a trademarked name owned by Frontiers North Adventures. Sometimes used to refer to any large vehicle on the tundra, this term is sometimes misused like "Kleenex" (facial tissue) Band-aid (adhesive bandage) or Ski-Doo (snowmobile).
-Frontiers North Adventures is a family business that has been operating in Canada's north for three decades, delivering unique itineraries and amazing experiences to travelers from around the world.
-The first Tundra Buggy was conceived and created in 1979
-There are about 17 Tundra Buggies in total
-The tires on each Tundra Buggy vehicle are 5.5 feet (1.7 meters) high and 3.6 feet (1.1 meters) wide, and sit on 25-inch rims
-The engine in Tundra Buggies is an International DT 466, (such as those in highway semi-trailers), geared through anAllison Transmission
-The top speed of a Tundra Buggy is approximately 45 km/h
-Some of the Tundra Buggies are larger than others but most of them have 20 seats and fit up to 40 passengers






Full disclosure:
Despite being very lucky to have worked on several contracts with Frontiers North Adventures (as a photographer taking photos of their buggies and guests for advertising, Northern Lights photos and also working as a photo guide for them) I have no direct affiliation to the company. I do however really like them and their vehicles! That's why I made this out of Lego because it's a completely unique vehicle with specific building challenges.






It was also featured on CTV news:





Sorry, this model is not for sale but if you have someone who MUST have one (are you a Tundra Buggy Driver?) I can create a new one just lke it for you. Please contact me by e-mail for details.