Dan Harper Lighting workshop LW4-3: "Creative Lighting"
Series 4, workshop #3 (LW4-3)

This is the third in a series of monthlyish workshops that I am running throughout 2010 all about portrait lighting.
This third workshop will be one of the most sought after as it demonstrates more advanced techniques and will get immediately into different creative lighting setups and give information about how to control your light to create dynamic images. There will be little to no talk about gear or how to setup your camera as that's already been done in the first two workshops. (However if you need help with something or missed the first two lighting workshops I will be there to help for sure!)

Photos from the LW4-1 & 2: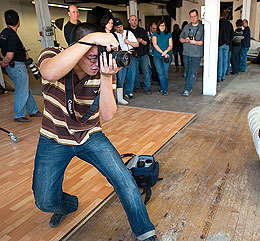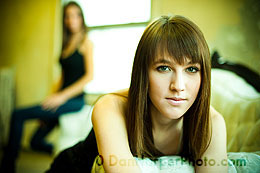 -Event: Workshop: LW4-3
-Date: Saturday, April 17, 2010
-Time: 2pm-6:30pm
-Location: Level 3 Studios: 301 - 290 McDermot Avenue
-Cost: Please see the registration form for pricing details

This second workshop in the series is meant for: Intermediate and advanced photographers
-People who want to learn how to create multiple lighting setups for a multitude of different styles and uses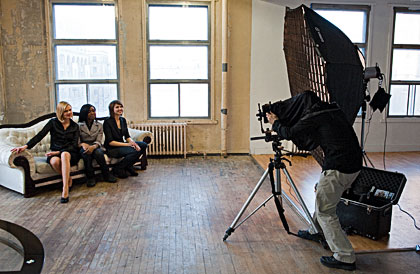 A photo of me shooting with a large format camera at the LW4-2 (photo by Jojo)

What you will learn:
-Multiple different advanced lighting setups and techniques

Workshop overview:
-From 2 to 3 or 3:30pm* you will receive instruction on multiple lighting setups
-From 3 or 3:30 to 6:30pm* each participant who paid for a "shooter" position will be able to shoot one model for 15 minutes. (For this workshop I've given extra time to shoot as the whole principal of this workshop is to try out multiple lighting setups which will therefore take more time to move the lights into different positions.
-At the same time, all participants including "attendees" are welcome to watch the shooters while they photograph the models in order to learn from one another.
*Exact timing may vary

Models
The models for this workshop are all professional models from Swish Model Management Winnipeg.
For this workshop, you will choose one model to work with for 15 minutes and create multiple different lighting setups during that time.
| | |
| --- | --- |
| Model 1: Ally | Model 2: Erinn |
| | |
| Model 3: Hannah | |
| | |

How to register:
Please download, fill out and send in the following form which is in PDF format.
It contains all the information on pricing as well as where to send a cheque if you want to save money and sign up early.

Frequently asked questions (FAQ):
Q: Do I need to have taken your previous workshops to take LW4-3?
A: No you do not. You can take any workshop at any time. However, please be aware that as the workshops go on, less instruction is given as to how to setup your camera or gear as that has already been done in previous workshops and we want the instruction to concentrate on more and more high end information. If however you have any problems in setting up your gear etc I will be there to help you for sure!