Nude workshop NW1.1 by Dan Harper: An introduction to nude photography

After teaching dozens of successful seminars and workshops over the last few years with up to 20-70 participants each, this year I wanted to put on a very special workshop, seldom seen in Winnipeg.
Although you may not be able to shoot them on a daily basis, nude photography is an extremely thought provoking type of photography that will engage and challenge any photographer to create great photos. If you've ever wanted to try nude photography but didn't want to without first having more knowledge and experience, this workshop will help you gain confidence by developing a base of skills specific to nude photography, many of which can be used for any type of portrait photography. The creative process and the experience of shooting nude photos is extremely rewarding!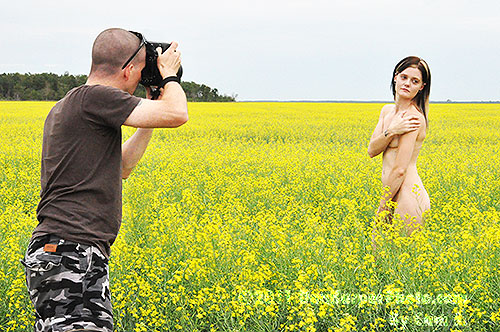 Myself shooting on site

-Event: Nude workshop: NW1.1
-Date: Sunday, February 5, 2012
-Time: 1pm
-Location: Level 3 Studios: 301 - 290 McDermot Avenue
-Cost & registration: Please see the registration form for pricing details and to send in your registration.
Participants have the option of registering as either a "shooter" or an "atendee". Shooters each get to bring their camera and create photos of the model for their portfolio. You should register as an 'atendee" if you want to take the instruction, but not take photos of the model and then practice on your own.

Photo from one of my previous lighting workshops:



This workshop is meant for:
- As this is an introductory level course, this is meant for photographers of all skill levels. You will be taught shooting techniques in the workshop. (see more info below)
-Anyone wanting to improve their posing techniques
-Anyone wanting to create nude photos for their portfolio
What you will learn:
-How to source and hire nude models
-How to create and when to use a model release form
-Multiple indoor and outdoor lighting techniques specifically for nude photography
-Posing techniques
-Photo selection & processing techniques


Workshop overview:
-From 1 to 4pm is the instructional portion of the workshop
-From 4 to aproximately 6pm you will have one on one time to shoot with the model. (actual shooting time will depend on the amount of registered shooters)
-At the same time, all participants including "attendees" are welcome to watch the shooters while they photograph the models in order to learn from one another.

The model
The model for this workshop is Karisa who I have worked with on multiple ocasions and who is extremely proficient at nude shoots.
| | |
| --- | --- |
| Karisa 1: | Karisa 2: |
| Karisa 3: | Karisa 4: |
| | |
| Karisa 5: | Karisa 6: |

How to register:
Please download, fill out and send in the following form (PDF format)
*Please be aware that there is a significant discount if you register early. Please see the registration form for more details.

Frequently asked questions (FAQ):
Q: Is there a prerequisite to taking this workshop?
A: There is no prerequisite to this workshop! However, this workshop concentrates on nude photography and not gear so you should be able to manipulate your camera using manual exposure settings.

Q. I'm a bit nervous around models and groups of people while shooting. How will it work at this workshop?
A. I've taught dozens of workshops and seminars and I can difinitively tell you that everyone (including me) is at least a bit nervous. When working with models it's never easy, it's kind of like a blind date. However, in the case of a DHP (Dan Harper Photo) workshop, that's what I'm here for, to teach you and then to help you along each step of the way if you sign up as a shooter.

Q. I've got a good amount of experience photographing models but none doing nudes, will this workshop help me?
A. Absolutely! Nude photography is vastly different from fashion or themed based model photography. The lighting, poses and feel of the shoot are all very different and I'll discus all of that in the workshop. Also, unfortunately it's very difficult to findnude models to work with, so even if you already have an extremely good shooting technique, you can still benifit from the opportunity to work with a nude model.

If you have any further questions please feel free to contact me at dan@danharperphoto.com