My Socials:
Photo Galleries
Content
LOOKING FOR A PHOTOGRAPHER?!
I specialize in:
-Advertising photography
-Event photography
-Corporate portraits
-Architectural & real estate
-Bands: promos & live
-360 VR tours
-Product photography
-Time-lapse photography
-And anything else you can capture with light!

Please contact me by phone at: (204) 237-7402 or by e-mail

---
Other sites by Dan Harper:

WPG360: A collection of panoramic and virtual reality tours
DanHarperPhoto.com: Dan's commercial site
WPGphoto.com: Winnipeg's largest free photo community, I created in 2004 (Now closed)

---
Dan Harper photo seminar on DVD:
"Going pro 2" is my second seminar about how to create a photography business, get clients, pricing and how to charge for your work as well as all those burning questions you have about photography.
A must have for anyone thinking of "Going pro"!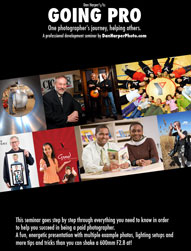 Click here for more info
---
Contact information
Phone: (204) 237-7402
E-mail: dan@danharperphoto.com

I really enjoy talking about photography and helping people with gear or starting a career in photography so if you have questions feel free to call!
---
Biography: Dan Harper

Shooting for fun since the early 90's and full time since 2006, I've come a long way from being born on that plane on the way back from Africa when I was blessed with an innate need to explore.

I first picked up a camera as a young child in the mid 80's at a garage sale, an old Zeiss Icon, which I used to take pictures of rocks, friends and at school. However, as I got more into photography in my early teens, I "borrowed" my mom's Pentax K1000 (which I still have on "loan"), one of the best learning tools I ever had. Shooting manually with just a needle meter (who's battery would almost always be drained) to guide me forced me to learn the hard way how to expose for all sorts of different situations, especially really cool looking rocks!

During the 90's I worked as an oyster farmer in BC as well as an ice herder in the arctic. (Herding ice is like herding turtles, but not as bad as herding rocks which I did later in Australia.)

Being a huge technology geek I jumped on digital photography like a cowboy on a horse and used my first digital camera in 1998 where I was accredited to shoot a rock concert in the US (CSNY). Although it was only a point and shoot digital camera, the fact that the photojournalists had to fumble to reload their film as I continued to seamlessly click away told me that this digital thing was going to be big. And it still might be...

I bought my first more serious digital camera in 2001, although not a DSLR it had full manual controls which again allowed me to control the light as I saw it. This in turn allowed me to take much better pictures of rocks! I also started to pick up every photographic book I could get my hands on in order to learn more. Other than that, everything else I know I learned from National Geographic.

After a failed career in button making I turned to web design with a bit of photography on the side.

Finally, in 2004 I took the plunge and bought a DSLR system. I also started to shoot commercially in 2004 for larger companies where I had contacts or good friends (but I still kept my passion for photographing rocks). At the same time I also started the Winnipeg Photo Club (now the Winnipeg Photo Community: WPGphoto.com), an online photography community of like-minded photographers who just like to have fun and photograph (mostly rocks) together.

I tend to think of my pictures being idea based. Fun photos that are involving to look at. I take pictures that attempt to get you to you look closer and evoke thought and am always looking for a more involved photographic experience.

It was only in 2006 that I decided to get away from my day job as a graphic and web designer and jump head first into full time photography. It's been hard going and I've made it this far thanks to all the support from friends and return clients. As a career photography the most rewarding, engaging and fun in the world!

This site is now a BLOG as well as a stock collection of some of my favorite pictures but is mostly for friends and family both near and far.
If you are looking to hire me, please visit my commercial photography site: DanHarperPhoto.com
---
Official photographer for:
-The MTS Centre (10 years)
-Festival du Voyageur (10 years)
-The Canadian Museum for Human Rights (5 years until opening)
-Assiniboine Park Conservancy



Accredited photographer for:


-The Winnipeg Free Press (freelance)
-Travel Manitoba
-Winnipeg Photo Community
-Nikon Professional Services Canada (NPS)
-Tourism Winnipeg/Economic development Winnipeg

Lectures, Workshops & Seminars given
-2014 lecture for Red River College Photography class
-2013 lecture for Red River College Photography class
-February 2012: Nude lighting workshop
-January 2011: Going Pro 2 seminar
-February 2010: Lighting workshop: LW4-2
-January 2010: Going Pro seminar
-January 2010: Lighting workshop: LW4-1
-May 2009: Lighting workshop: LW3-2
-April 2009: Lighting workshop: LW3-1
-PrairieView School of Photography (several workshops)
-WPGphoto (Seminars, tutorials & workshops)
-2008 MPAX Keynote speaker
-2008 MPAX Workshop instructor (x2)
-2008 MPAX Interviewee (x2)
-Manitoba Camera Club (Seminars)
-Winnipeg South Photo Club (Seminar)



Volunteer work:


-Heart & Stroke Foundation of Manitoba
-United Way of Winnipeg
-The Manitoba Moose Yearling Foundation



Bands and artists:


-Randy Bachman
-Jet Set Satellite
-Lives of Many
-Jessie Farrell
-Cookson Hills
-Sick City
-Nicole Byblow
-Jaydee Bixby (Canadian Idol)
-David Clinger
-Guy Abrahm
-B.U.M.P.
-The Alibi
-Jordan Heppner
-The Reception
-Radio for Help
-Ya Ketchose
-Aftertrust



Others:


-Blizzardi
-Howler Custom Cycles



Judging & Contests Dan has presided over


-All of 2015: Judge for La Liberté's photo contest
-October 2014: Judged (and lead) International Photo Walk
-October 2013: Judged (and lead) International Photo Walk
-August 2012: WPC group gallery #5 judge
-November 2011: WPGphoto/Photo Central gallery #5 judge
-March 2011: WPGphoto/Photo Central gallery #4 judge
-August 2010: WPC/Photo Central group gallery #4 judge
-January 2010: WPGphoto/Photo Central gallery #3 judge
-October 2009: WPGphoto/Henry's Photo gallery #2 judge
-2008 WPC/Don's Photo "Uniquely Manitoba" photo contest
-2008 CPAWS - Canadian Parks and Wilderness Society, Manitoba Chapter calendar
-2008 WPGphoto.com calendar
-2007 Don's Photo/Sony Photo Contest
-2007 WPGphoto.com club calendar
-2006 WPGphoto.com calendar



Magazines


-FAST Car (UK)
-Performance Auto & Sound Magazine
-Car Audio & Electronics Magazine
-NUVO magazine
-Miss Saphira's Tales
-Wpg Cruise Automotive Magazine - Official event photographer 2007-2008

Other major commercial clients:


-Apotex Inc. Canada
-Association of Fundraising Professionals
-Barkman Concrete
-Boss Racing
-Burton Cummings Theatre
-C Finance
-Caisse Saint Boniface
-Caisse St. Anne
-Caisse St. Pierre Jolys
-Canadian Fireworks Association
-Canfire
-CBC/Radio-Canada
-Célébrations 2008
-CentreVenture
-Collège universitaire de Saint-Boniface
-Country Music Television
-Destination Winnipeg
-Dyterra
-Falcon Manufacturing LTD. WPG
-Fédération des caisses populaires du Manitoba
-Francofonds
-Health Sciences Centre
-Heart and Stroke Foundation of Manitoba
-Hectic Clothing
-Hooters Winnipeg & Calgary
-Interlock Concrete
-Jewish Foundation of Manitoba
-Jung Do Academy
-Keystone Ford
-La compagnie de La Vérendrye
-Lewis Communications
-McKim Cringan George
-MacDon Industries Ltd.
-Manitoba Hydro
-Manitoba Museum
-Manitoba Profiles in Business Excellence
-Manitoba Theatre Centre
-Montage Design
-The MTS Centre
-MTS/Allstream
-The Marketing Den (Saskatoon)
-Nikon Canada
-Penner Inc.
-Power97/CJOB
-Portsmouth Retirement Residence
-PrairieView School of Photography
-Regent Casino
-Regional Health Authorities of Manitoba
-Richardson Financial
-Productions Rivard/Rivard Prodctions
-Rolling Rhino Communications
-Running Room
-SeCan Association
-Shastri Indo-Canadian Institute (Calgary)
-Société Santé en français
-Société Franco-Manitobaine
-Solata Advisors Ltd.
-Sony Canada
-St. Boniface Hospital & Research Foundation
-Sublime Soap Co.
-SuicideGirls.com
-Take Pride Winnipeg
-Tapper Cuddy Law Firm
-Town of St. Léon
-TPS Sports Photography (Dan H: Regional manager)
-Travel Manitoba
-Union nationale métisse Saint-Joseph du Manitoba
-United Way of Winnipeg
-University of Winnipeg
-Wardrop
-Wayne Arthur Gallery
-Westeel
-Windows of Fashion
-YM-YWCA



Fashion & Beauty collectives


-Panache Management (Models)
-Fusion Collective
-Preview Fashion
-Wella Hair Care products