Dan Harper's Lego Fort Gibraltar
MOC #2 (My Own Creation)




After making a Lego Technic Tundra Buggy as my first MOC (My Own Creation) and then doing my "#DHPLegoPhotoProject", I wanted to come up with a really good idea for a second MOC. I decided to stick with making iconic, Winnipeg/Manitoba based MOCs. So, for my second MOC I chose to build the iconic structure of another client of mine: Fort Gibraltar, official site of Festival du Voyageur.
Details about Lego Fort Gibraltar:
-Piece count: 6340 approx. (more than the largest official Lego set, the Taj Mahal)
-Build cost: This creation includes pieces from 11 Bricklink orders, 5 Lego Minecraft sets, the Lego Simpsons House and several visits to the Winnipeg Lego store Pick a Brick wall. Due to the large amount of pieces, high cost for some of the unique pieces and shipping costs, this set cost in the area of $2000 to create.
-Size: The physical size of the model is 4'x4' and it sits on two 2'x4' wooden boards for easy transport
-Build time: From my initial thoughts to create the Fort in February 2016 to it's unveiling to FDV staff on May 5th was about 2.5 months. The actual time that I put into creating the build included:
-5 hours of concept drawing
-collaboration and visualization time with J
-25 hours for ordering parts
-3 hours of collaboration with other Lego builders from the Manitoba Lego Users Group
-consultation time with FDV staff
-finally the actual build time was in the area of 50 hours due to creating and re-creating multiple structures with different build techniques.
*So a total of about 85 hours all together to create

A video walk-around of the model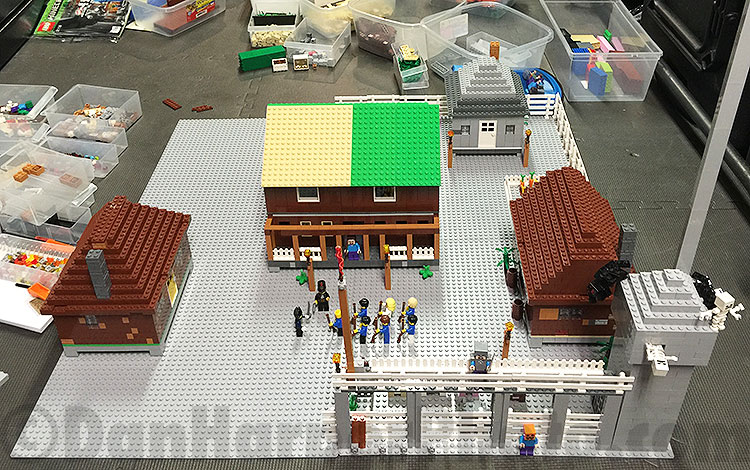 One of the first build photos. Note this is just a proof of concept as the tower and blacksmith shop colours are different than the final set.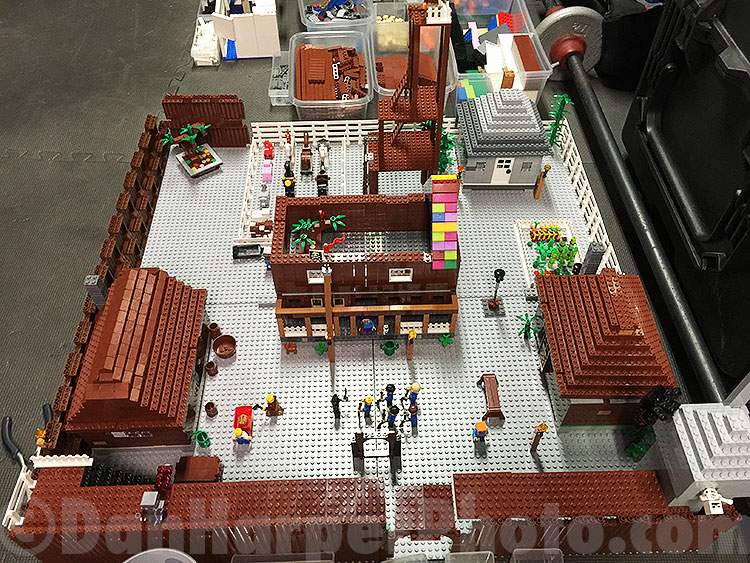 Another build photo, note that the roofs are still studded and not sloped and that the whole thing still rests on grey baseplates rather than the final green ones.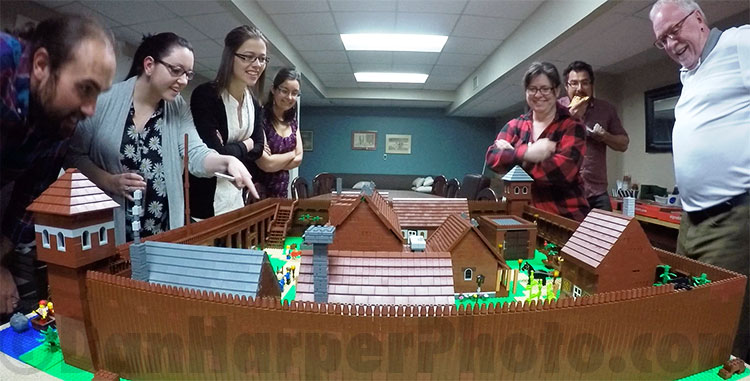 A video capture of the unveiling of Lego Fort Gibraltar to Festival du Voyageur staff. Everyone was smiling!
Details about the real Fort Gibraltar:
(With information from Colin, Monique & Wikipedia)
-Original Fort was built in 1809 by the North West Company
-Original location was near the Manitoba Children's Museum at the Forks
-Existing Fort was rebuilt in the late 1970's for Festival du Voyageur where interpreters portray the time period of 1815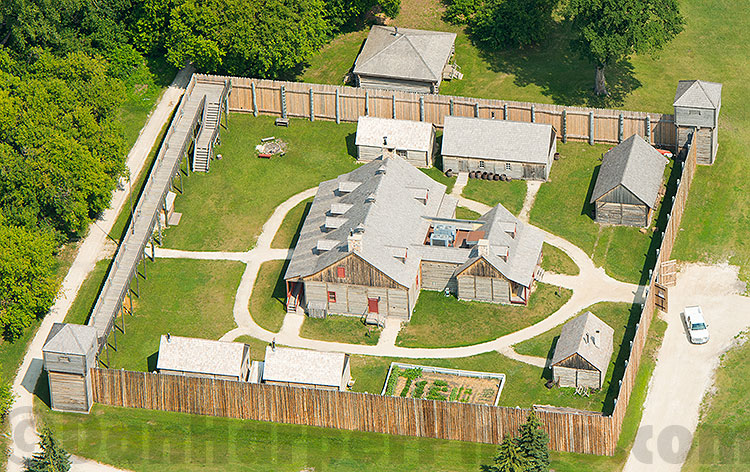 One of my aerial photos of the Fort, used for reference in creating the Lego Fort Gibraltar.


Another one of my photos of the Fort, taken during Festival du Voyageur, used for reference. (My Lego FG model will have an extra window and chimneys added later)
The Lego Fort Gibraltar, detail photos: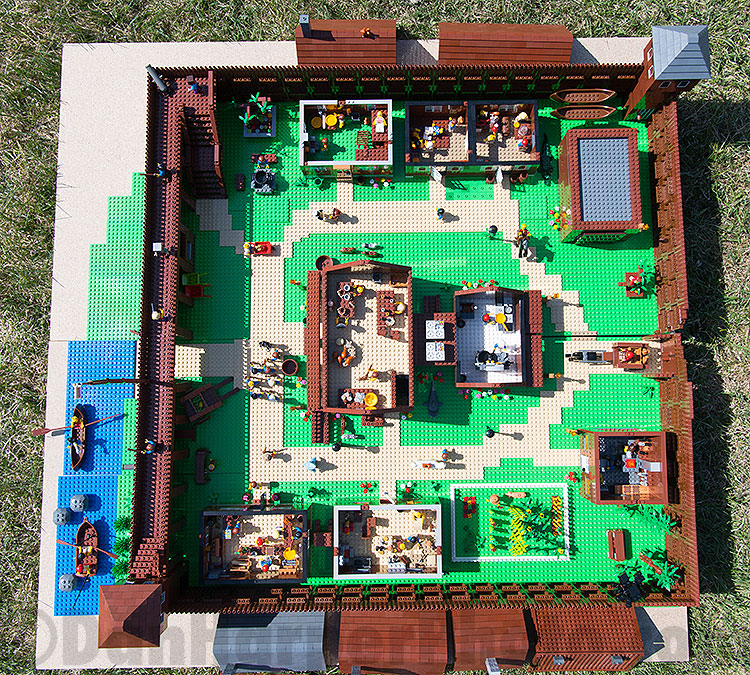 An overview of the whole set with the roofs off. Note the roofs just outside the Fort walls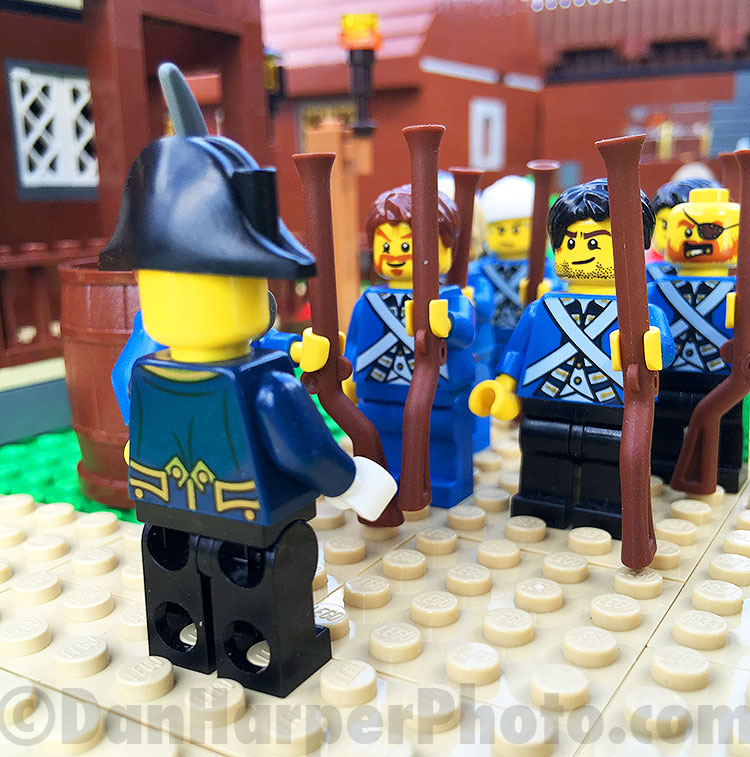 La Compagnie de La Vérendrye had to be featured in this set! They are a large group of military re-enactors who have been a staple at FDV and other historical events around Winnipeg (and beyond) for many years!

The characters playing "jambette" or leg wrestling. A popular game at the time.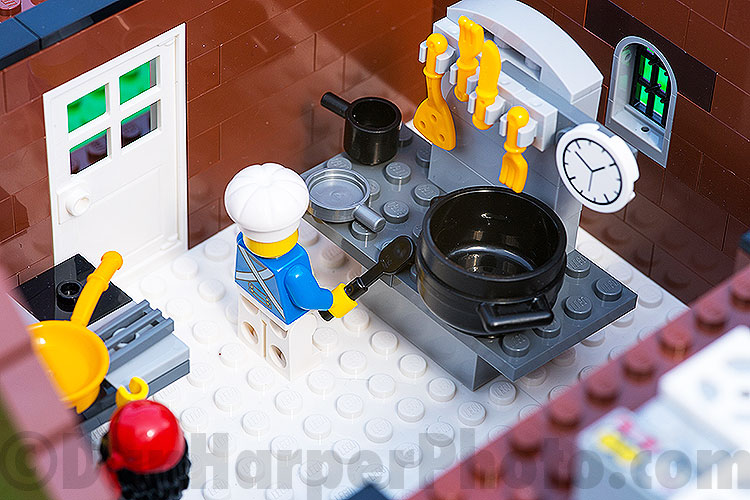 A detail shot of the kitchen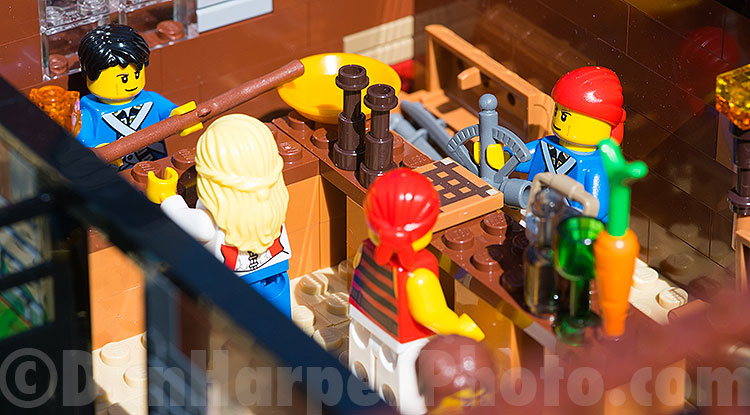 A detail shot of the trading post or "poste de traite"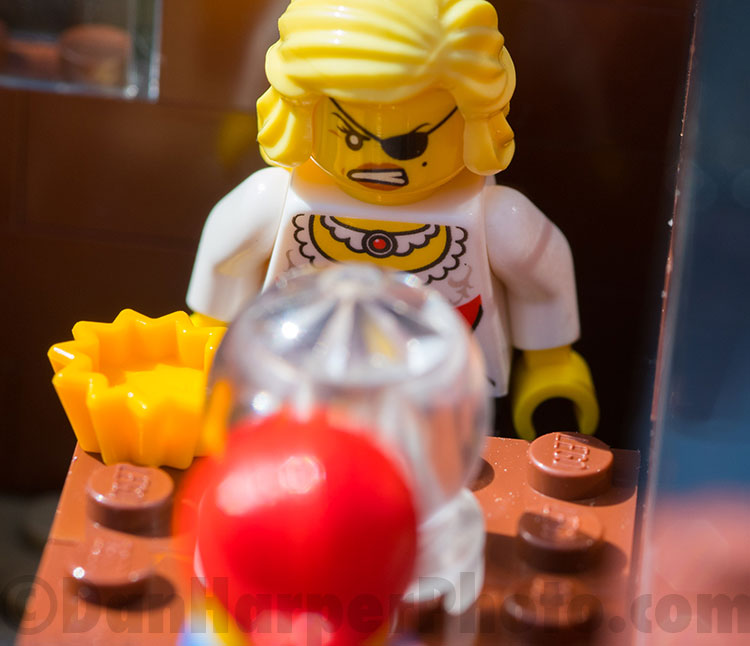 All of the re-enactors are a lot nicer than this minifigure!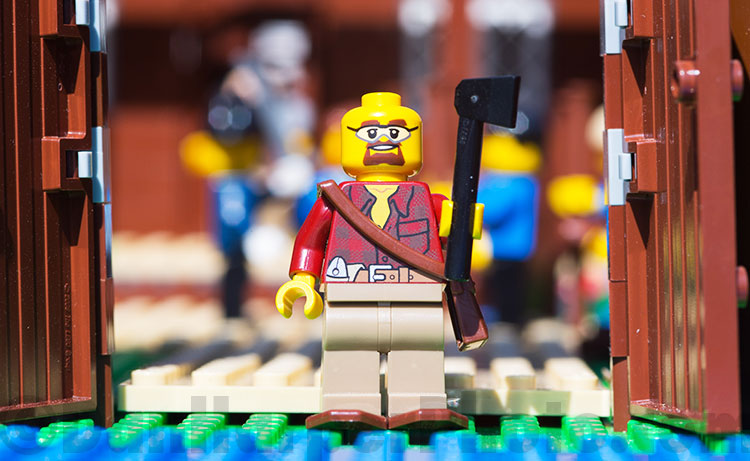 A classic voyageur going out to cut some wood! (Or is it Walter White?)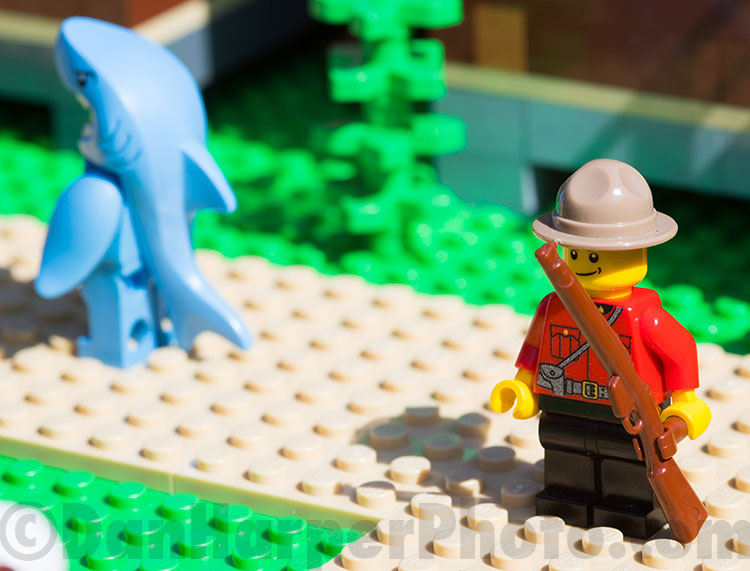 I put some things in the set for humour, others to start a conversation of what doesn't belong for the time period.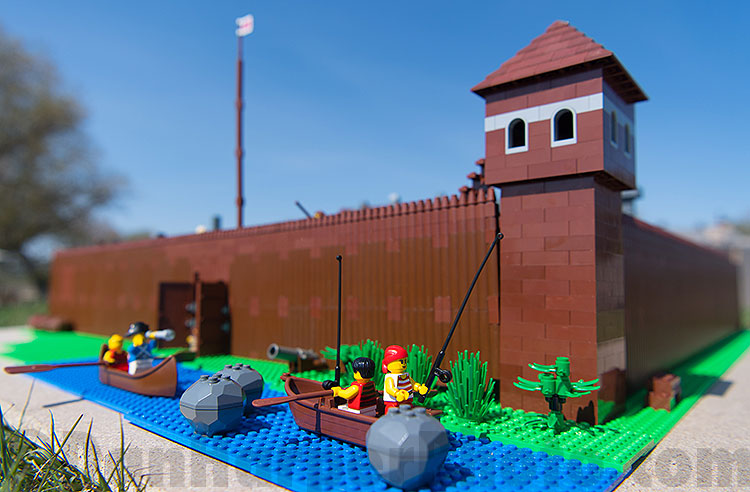 A view from the front of the Fort with the water area.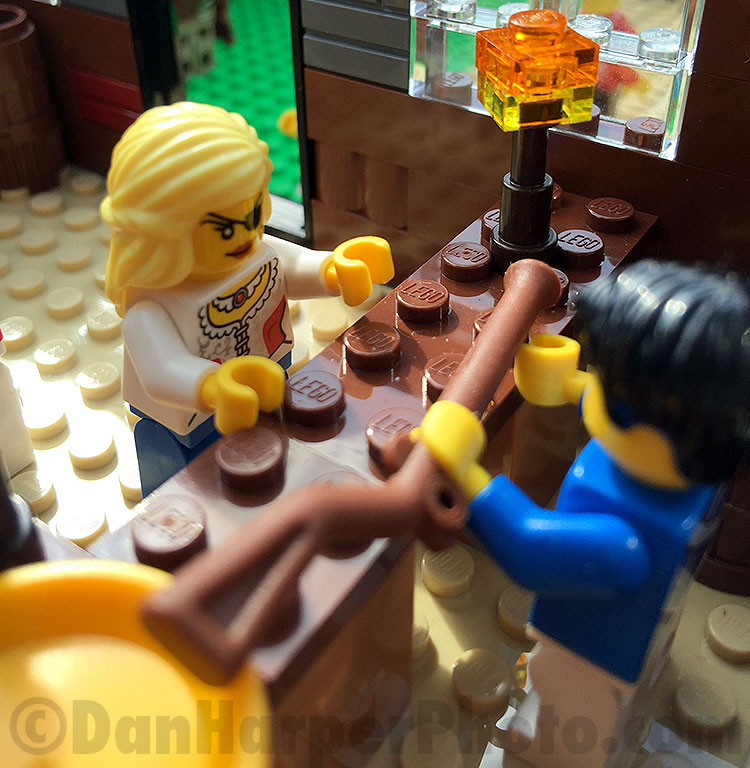 Another detail shot from the trading post.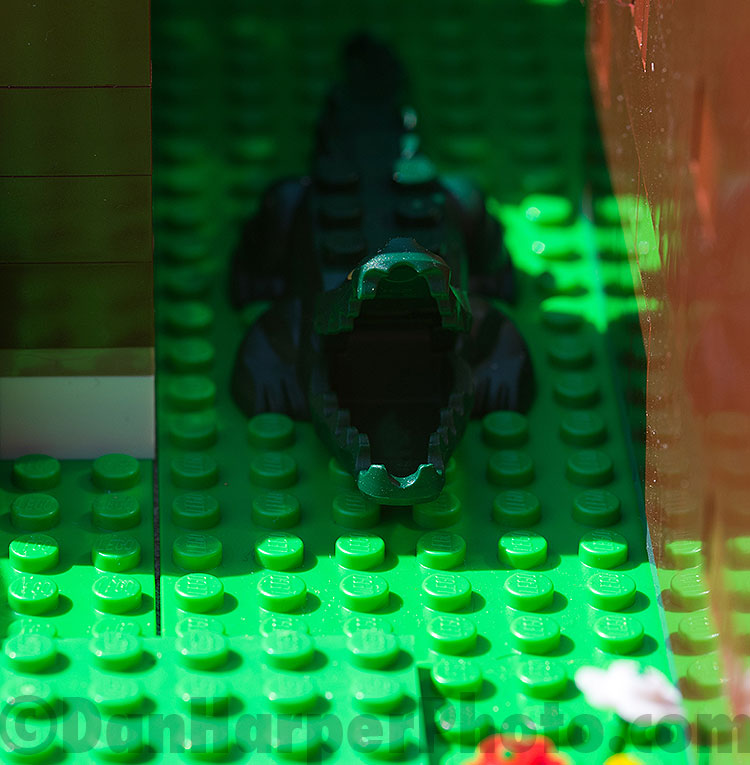 Beware the shadows! There are dozens more funny details around the set!
Model on display:
I'm currently working with FDV to have the model on display during their summer months where Fort Gibraltar is open for tours from May 16 to August 28. More details by clicking here. And then it will likely be on display in the "Maison du Bourgeois" which is the large main structure inside the Fort for Festival du Voyageur 2017.
Future upgrades:
-There were several pieces that I didn't have enough of and had to substitute the wrong colour for such as in the towers and around some windows. I'll be replacing those with the correct colours asap.
-I'm not happy with many of the mini-figures because they are pirates which isn't really appropriate/accurate for the area/time-period. As I needed over 50 mini-figures and they cost on average $3-4 each, I bought 3 "Lego Pirate Chess" sets as they each came with 20 mini-figs. Obviously, I would like to find more appropriate mini-figs for the Fort.
-There are some details that will also be added such as the correct number of windows in the "Maison du bourgeois"
-I will likely be adding the "Taverne de la Brigade" building which is the structure just outside the Fort walls to the East
-I already have a version of the massive and iconic tree to the East of the Fort but that may be finished and added later
What makes a good build for me:
I like to create elaborately detailed builds, something that takes people a lot of time to look at. I also really like to make things that are uniquely Manitoban. I love where I live and I like to show others just how much Winnipeg and Manitoba have to offer. So, when I'm building I like to create things that people already know but have likely never seen made out of Lego.
As I have been the official photographer for Festival du Voyageur for over 7 years now (and I've loved every second of it!) I have a large amount of visual knowledge of the Fort. This includes having been in each cabin multiple times, photographing the Fort from a helicopter several times and also a connection to the FDV staff that helped me get an idea of what was important and interesting about the Fort to them.
Many thanks:
-Jason P for putting in about 15-20 build hours
-Colin and Monique from FDV for their help and information about the history of the Fort
-Members of the Manitoba Lego Users Group including Chris & Melinda, Kristen, Kevin & Billy for their help, pieces (thanks C&M!) and suggestions. If you like Lego and live in Manitoba you should definitely join their officially sanctioned group, it's free!
-The Lego Store Winnipeg

Sorry, this model is not for sale but if you have someone who MUST have one (are you an interpreter?) I can create a new one just like it for you. Please contact me by e-mail for details.